The Personal Electrocardiographic Expert (PELEX)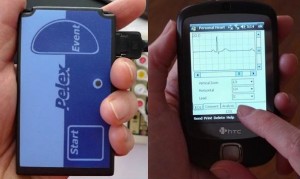 PELEX is the only FDA-cleared, professional-quality ECG system that combines high fidelity and versatility of diagnostic, 12-lead ECG with various types of ambulatory monitoring in a light, pocket-size unit. PELEX allows you to record an ECG, shows the data on a smart phone, and sends the information to a medical center for more advanced processing or directly to the phone of a healthcare professional.
The multipurpose, wireless system also provides high-fidelity monitoring of physical activity and body position.
Advantages of the PELEX wireless technological platform:
Small and lightweight
24 high-resolution/high-speed data channels
Long operating times due to ultra-low power consumption (>15 hours in high-resolution, 1000 Hz /channel mode)
FDA-cleared, diagnostic quality, 12-lead ECG and other physiological data
Data transmission via Bluetooth to PC-based stations and smart phone for improved interoperability and convenience
Low system noise and channel cross-talk
Immediate data analysis and connectivity with the GE Healthcare cardiology database (MUSE)
Allows monitoring and/or real-time transmission of:

8 ECG channels with the sampling frequency of 1000 Hz/channel
Electrical impedance for each electrode (as an indicator of the quality of skin-electrode contacts)
Cardiac pacemaker
3 channels for 3-axial, high-fidelity accelerometer data, indicating changes in body position and mechanical movements
Patient-activated events
PELEX-MAX: An MRI-Compatible, Wireless, 12-Lead ECG, Blood Pressure, and Oximetry System

PELEX-MAX is a multisensor, wireless, mobile unit and review station designed to provide uninterrupted, high-quality data during MRI- and X-ray-guided procedures, as well as during patient transportation and multi-modal imaging. It addresses the need for continuous monitoring in the challenging environments of the interventional cardiology suite, ICU, operating room, and ER.  PELEX-MAX eliminates the need to detach and reattach different monitoring systems for different procedures and hospital units, improving the quality and efficiency of patient care. (Note: currently for research use only. This product has not yet been cleared by the FDA for clinical use.) Learn more.
TRIO-MR: An MRI-Compatible Defibrillation System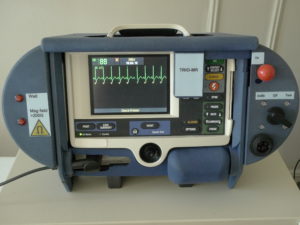 TRIO-MR is the first MRI-compatible external defibrillation  and monitoring system, providing safe external cardiac defibrillation and pacing in the MRI environment, including the scanner bore. The availability of external cardiac defibrillation in the MRI setting enables the development of innovative MRI-guided cardiovascular tests and interventions. (Note: currently for research use only. This product has not yet been cleared by the FDA for clinical use.)
Coming soon:
The Arterial Pressure Expert (APEX-Centro)
The first multisensor, high-fidelity monitoring system for tracking cardiac and vascular activity to provide complete characterization of cardiovascular system dynamics, APEX-Centro provides continuous, cuff-free, nonobtrusive tracking of arterial pressure, as well as ECG, cardiac output, vascular resistance, and other important cardiovascular parameters. Its unique flexibility and range of sensors will address the needs of both researchers and clinicians. In 2016, the prototype was successfully tested in human subjects within an NIH-supported project. APEX is protected by 3 U.S. patents and pending patent applications. (Note: currently for research use only. This product has not yet been cleared by the FDA for clinical use.)
PELEX-OCEAN
PinMed partnered with the National Marine Mammal Foundation (NMMF), a globally recognized leader in marine mammal science, medicine, and conservation,  to adapt PinMed's FDA-cleared wireless cardiovascular monitoring platform (PELEX) for continuous tracking of electrocardiogram (ECG) and physical activity in the aquatic environment.